Understanding Special Event Liability Insurance: Common Exclusions You Should Know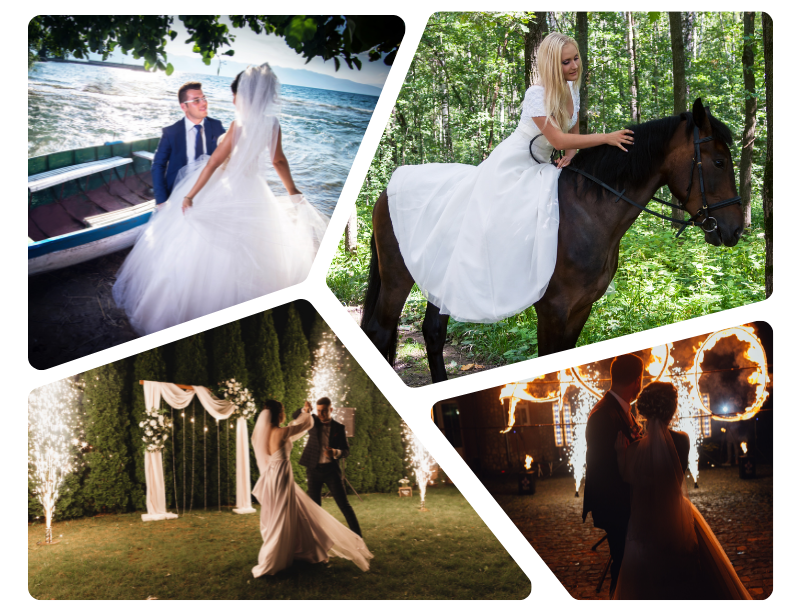 Planning a special event can be an exciting endeavor, whether it's a wedding, a corporate gathering, or a community festival. Special Event Liability Insurance is designed to protect you from unforeseen circumstances, but like any insurance policy, it comes with exclusions. In this blog post, we'll take a closer look at some common exclusions found in special event liability policies to help you better understand what may not be covered.
All event liability insurance policies are designed to cover standard risks that are normally associated with a special event – slip and falls, property damage, a guest leaving intoxicated, etc. These polices are not priced to cover high risk activities that couples sometimes want to include at their weddings.
What is super important to know, is if you have any of these activities at your wedding, they are not covered by your policy and could leave you and your partner facing a huge lawsuit just as you are starting your life together. Even if your vendor for one of these activities has their own insurance, their insurance is not guaranteed to protect you. Better to be safe and simply skip the activity, your wedding won't be ruined.
One more thing you should know. What does not covered or excluded mean? These terms mean, if you are sued for property damage or an injury related to one of the above activities, your policy may not cover the cost of defending you in the lawsuit or paying any judgments against you.
Excluded or not covered, does not mean you have no coverage under the policy. If the property damage or injury is not related to the excluded activity, then your coverage can still apply.
Exotic Animals/Saddled Animals: As much as you would like to arrive in a horse and carriage or make your entrance on horseback, that is a hard no.
Golf Carts and Motorized Vehicles: These vehicles provide an easy way to move your guests around your venue, however, they also present a big risk. What do you think happens when a drunk guests decides to take the golf cart for a spin? If your venue has their own golf carts and drivers to shuttle your guests around, that is permitted, as long as they do not allow guests to drive the carts under any circumstances.
Water Activities: Activities like swimming, boating, or water sports are not be covered under your special event liability policy. If your event involves water activities, you should seek specific water-related liability coverage.
Overnight Camping: If your event includes overnight camping, note that the coverage typically ends when the event ends. It does not extend to guests' activities in their tents or camping areas after the event concludes.
Bonfires and Open Flames: While candles used for decorative purposes can be covered, liability policies exclude coverage for incidents related to bonfires or other open flames. Be cautious and take necessary precautions when planning such activities.
Overnight Stays: Coverage under your special event policy generally doesn't extend to guest rooms or activities that occur after the event ends. Safety and liability become the responsibility of the individual guest.
First-Party Property Damage: Most special event liability policies do not cover damage to your property or belongings. Consider separate property insurance if you need coverage for valuable items during the event.
Vendor's Equipment: Damage to a vendor's equipment or property are not covered under your policy. Vendors should have their insurance to protect their equipment and assets.
Injuries or Property Damage Caused by Vendors: Injuries and property damage caused by vendors or their employees is excluded from coverage. Vendors must have their own liability insurance naming you as an additional insured on their policy to cover accidents involving their services.
Intentional Acts: Deliberate actions, such as physical altercations or intentional property damage, are not covered by special event liability insurance.
Rented Equipment: Equipment you rent for your event, such as sound systems, lighting, or tents, is not covered for damage or loss. Consider securing a damage waiver from the rental company.
Fireworks: We all love fireworks, however, special event policies exclude fireworks and pyrotechnics from coverage. If you plan to simply use sparklers outdoors, you can be covered.
Criminal Acts: Liability arising from criminal acts like assault and battery is excluded from coverage.
Drones and other Aircraft: While drones are a great way to get a bird's eye view of your wedding and a popular tool used by many photographers, any damage or injury caused by a drone is not covered by your policy. If your photographer is using a drone at your event, make sure the photographer has his/her own drone liability insurance naming you as an additional insured on their policy.
Amusement Devices: Inflatables, bounce houses, and other amusement devices are not covered. Rental companies often provide their insurance for these attractions which could help if you are named as an additional insured on their policy.
Guns and Target Shooting: Liability related to guns, target shooting, or firearm-related incidents are 100% excluded by your special event policy.
Cannabis: Sorry, any threatened, alleged, actual or suspected activity related to cannabis is excluded from coverage.
COVID-19: While it's essential to check your policy details, all standard special event liability policies exclude coverage for losses related to pandemics, including COVID-19.
Remember, the specific exclusions in your special event liability policy can vary, so it's crucial to thoroughly review your policy and consult with your insurance provider to understand what is and isn't covered. Depending on your event's unique aspects, you may need to purchase additional coverage to address certain risks effectively. Planning ahead and being informed will help ensure your special event goes off without a hitch.
Other Resources